Car Hire in London, England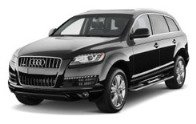 Rent a car in London, England from Auto Europe and explore a city with thousands of years of history, now a melting pot of cultures from around the world. By hiring a car, you can set your own schedule and not worry about missing the many landmarks of this venerable city. Auto Europe offers pick up locations at the major airports (London Heathrow Airport, London Gatwick Airport, London City Airport, London Stansted Airport and London Luton Airport) as well as many downtown locations in London, so your rental can start conveniently when you arrive.
Travelling in London with a Rental Car
If you plan on a holiday in London, plan on spending much of your time in the city centre exploring the Palace of Westminster, the Tower of London, and the London Bridge. Drive over to the city of Westminster to see the millions of objects collected from civilisations around the world at the British Museum. The National Gallery, though small in comparison to other country's national galleries, still offers a comprehensive history of paintings from the Renaissance era to the Post-Impressionism era. Whether you get your photo taken with a famous celebrity at Madam Tussaud's or catch a play at the rebuilt Shakespeare's Globe Theatre, you'll always be left with more of London to tour in your rental car.
Rent a Car in London with Auto Europe
Looking for a rental car in the United Kingdom? Look to Auto Europe for the best rates, thanks to Auto Europe's price match guarantee. Our excellent customer service will strive to exceed your rental expectations. You can book online by entering your details in the search form or contact us for more information.