Car Hire in Rome, Italy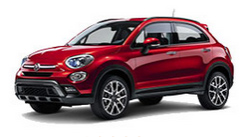 Rome, at one time the centre of the known world, today exists as a contemporary, yet traditional city with many enticing areas to visit on your holiday. Pick up a hire car from Auto Europe's convenient pick up locations at Rome Fiumicino Airport, Rome Ciampino Airport or many downtown locations and start exploring the ruins of the ancient Roman Empire, the Holy See, and the many other attractions that Rome has to offer.

Travelling in Rome with a Rental Car
During your driving tour of Italy, be sure to include the Coliseum, the Pantheon, and the Circus Maximus in your travels, as they stand today as testaments to the former Roman Empire's mark on the known world. As you enter Vatican City, you will find the opulence and majesty of Saint Peter's Basilica, where you can climb to the top of the dome for a breathtaking view of the surrounding city. Anywhere you go, you will find ancient treasures and wonderful sights to see, as the city has been in near-constant development for almost 3,000 years.

Rent a Car in Rome with Auto Europe
Hire your holiday rental car in Rome with Auto Europe and receive excellent customer service and the lowest rates, thanks to our price match guarantee. Questions about renting a car in Rome? Please review our car rental FAQ or contact us for more information.