Car Hire in Exeter, England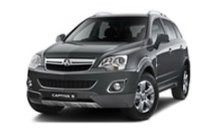 Abundant in character and ancient history, Exeter is still able to offer visitors all the comforts and pleasures that are expected of a modern day city. The surrounding area of Devon boasts an expanse of sweeping countryside, narrow hedged roads and lavish green fields, and it is only a few kilometers away from city centre and is easily accessed by rental car. Tour the region at your own pace and never feel a time crunch. When you hire a car with Auto Europe you are providing yourself with the luxury of time. Several convenient pick up locations, a large rental fleet selection, and price match guarantees ensure that your rental experience is easy and economical.
Exploring Exeter with a Rental Car
One of the most popular places to see while in Exeter is St. Peters Cathedral, which hosts the longest unbroken Gothic vault ceiling in the world. Other notable places of interest are the Roman & Medieval City Wall, Turks Head & Parliament Street, and Northernhay Gardens. Exeter promotes itself as the perfect place for you to base your visit, enabling you to travel outside of the city, where you will see some of the other splendours and nearby attractions the county has to offer. Let the open road be your guide and don't be held back by rental car restrictions. There are a number of towns along the way where you are able to drop off your car at the end of your visit.
How to Rent a Car in Exeter with Auto Europe
Rely on Auto Europe for all of your car hire needs while on holiday in the United Kingdom. Expect unbeatable rates and top notch customer service, as we strive to exceed your expectations and make your booking experience both pleasant and completely hassle free. Contact one of our rental agents directly by calling us toll free at 0800 990 440, or make your reservation online. For additional information review our helpful car rental FAQs.