Car Hire in Stuttgart, Germany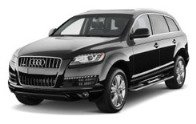 The sixth largest city in Germany is home to headquarters for both Mercedes Benz as well as Porsche making for a car lover's dream. An incredibly friendly city, you will be shocked at the small town feel while still enjoying all the urban amenities. With many pick up locations we guarantee to make your car hire experience convenient and simple.

Traveling in Stuttgart with a Rental Car
While in Stuttgart, visit the Mercedes Benz and Porsche Museums. The Wilhelma Zoo is made up of gorgeous botanical gardens and is tons of fun for the whole family. Depending of when you arrive, there is always a festival of some sort to partake in! Stuttgart also boasts a thriving night life; there is a bar or pub for every style of music imaginable. For a change of pace, take your rental car and drive to nearby Cologne, Munich, Mannheim or Hamburg.

Rent a Car in Stuttgart with Auto Europe
For low rates and superior customer service, allow Auto Europe to arrange your car rental. We guarantee complete satisfaction from the beginning to the end of your Germany car hire. You can book online or contact us for more information. Please review our car rental FAQ.