Car Hire Portugal
Due to its smaller size, Portugal is the perfect country to tour with a rental car from Auto Europe. Even if you begin a holiday in a major city, a hire car gives you a chance to see the beautiful countryside at a moment's notice and on your own time. A large rental car fleet gives you a chance to tailor your rental car to your needs while many available pick up locations allow for your rental to be a seamless, convenient start to your holiday.
Traveling in Portugal with a Rental Car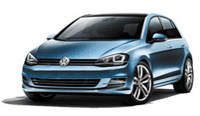 In Portugal, any activity is can be enjoyed at a leisurely pace. Your rental car from Auto Europe will let you see the breathtaking views of the countryside as well as the bustling cities of Lisbon and Porto. Be sure to see some of the deep rooted history of this country as Celts, Romans, Visigoths, and Moors have all settled the land at one time or another. Artifacts from each culture are yours to discover as you tour the country in your rental car.
Rent a Car in Portugal with Auto Europe
Renting a car in Portugal from Auto Europe is the easiest way to find the lowest available rates with our price match guarantee. For more information, please review our car rental FAQ or contact us.