Car Hire in Maastricht, Netherlands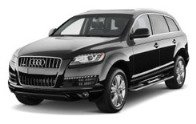 Maastricht is widely known as an epicenter for culture, history and tradition. Situated on both sides of the Meuse River, Belgium is actually within walking distance of the city! A car hire from Auto Europe will grant the luxury of touring this fascinating city and its surroundings at your own leisurely pace. With many pick up locations we strive to make your car hire experience simple and hassle free!

Travelling in Maastricht with Your Car Hire
It would be a travesty to skip the Bonnefantenmuseum; the art collections housed here span from historic to modern times and include works by Peter Paul Rubens, Anthony van Dyck and Jacob Jordaens. The Natuurhistorisch Museum contains Mosasaur remains and giant turtle remains found in the nearby Marlstone Caverns. There are always fun cultural events being held at one of the two theaters in town, be sure to check local listings. If you get the urge to leave the city, hop in your car and head over to Belgium!

Hire a Car in Maastricht with Auto Europe
For unbeatable rates and service, rely on Auto Europe for your car hire needs in the Netherlands. We guarantee to keep you satisfied from the beginning to the end of your car hire. You may contact us for more information or check out our car hire FAQ.