Car Hire in Billund, Denmark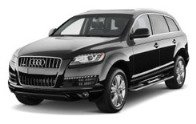 The second largest city in Denmark, Aarhus is regarded to have the perfect combination of small town charm and big city sophistication. With many historical buildings and churches, the area is full of antiquity and beauty. Auto Europe offers many pick up locations to ensure your car hire experience is simple and convenient.
Travelling in Billund with Your Car Hire
Perhaps the most fascinating attractions in the Billund area are the peat bogs which offer a strange opportunity to people exploring them. Grauballe Man, a 2000 year old body was discovered by a person digging for peat in 1952. His exceptionally well preserved body is on display near Aarhus at the Moesgaard Museum. These bogs are composed of a rare chemical makeup due to the decomposition of peat which in turn acts as a preservative to the bodies found there. Bog bodies are not for everyone! Take a day trip to Copenhagen where you can see a performance at the Copenhagen Opera House. Be sure to eat a famous Smorrebrod sandwich or head to one of the 11 Michelin star restaurants.
Hire a Car in Billund with Auto Europe
For competitive rates and exceptional customer service, rely on Auto Europe for your car hire in Denmark. We guarantee to make the car hire process simple and stress free! For further information either contact us or review our car hire FAQ.