USA Motorhome and RV Rental
Arguably one of the best self-drive destinations, the USA is the perfect country to discover in a motorhome or RV. With so many states waiting to be explored, you'll always have something to do or see. Thanks to the well maintained and extensive roads and highways, driving between big cities and small towns is easy. You'll never have trouble finding accommodation as you have accommodation and wheels in one. Book your USA Motorhome with Auto Europe and explore the best of these vast lands in comfort.
Auto Europe offers a range of comfortable motorhomes for your trip. Small compact motorhomes perfect for a couple on a romantic Las Vegas adventure or a larger 4 berth for a family heading to the theme parks in Orlando. Want to do the ultimate Cali road trip with you and your mates - there's even a 7 berth perfect for you.
See More of the USA with an RV Rental
East or west coast, the deep south or heading towards the Canadian border - the vast lands of the US are perfect for covering in a motorhome. Explore the main cities we all know and love of Los Angeles, Las Vegas, San Francisco, New York and Miami or step off the beaten path into lesser known places such as Memphis or Portland, Oregon. Drive the iconic Route 66 or follow Highway One, also known as the Pacific Coast Highway.
The US is truly a RV friendly country, from no frills basic RV parks through to luxury well-appointed parks featuring hotel and spa like facilities, you can find it all in the USA. There is a choice of over 10,000 RV & motorhome parks to choose from. Found an iconic town on Route 66 and want to spend the night? Had a few to many Bourbon tastings in Tennessee - just pull into an RV park and you're accommodation is sorted. You'll meet friends at RV parks who have all the tips and tricks to set you on the best path. You won't find this kind of advice in a tourist guide!
Rent a Campervan in the US with Auto Europe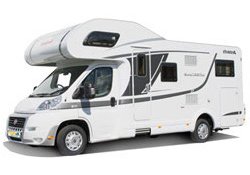 What are you waiting for? A motorhome rental in the US is the only way you should consider travelling about this vast country. Book online today using our simple booking engine, or call one of Auto Europe's friendly agents toll-free at 0800 983 468. Hiring a RV in the USA is something of a rite of passage and on the bucket list of many. Let Auto Europe turn your dream into a reality today!