France Motorhome and RV Rental
Ask what someone's first thoughts of France are, and images of Paris or cafes with terraces and eating fresh croissants may come to mind, but there's so much more to this delightful country! Why not create your own special holiday with a motorhome rental in France from Auto Europe. Enjoy the modern city of Paris in an RV, while also having the freedom to visit the medieval castles, chateaus and cathedrals dispersed across the countryside.
Utilising a motorhome in France allows you to follow your own schedule - found a cute winery in Champagne and want to spend the night? No problem - you can just book into the local campground and sip on champagne to your hearts content. By renting a RV you have the convenience of crossing borders into other countries like Germany, Italy, Switzerland to name a few! See all of Europe and only unpack once. Save time and money while getting to explore more with a motorhome rental from Auto Europe.
See More with an RV Rental in France
What could possibly make a trip to France even better? An RV rental in France! A motorhome is a home away from home; a traveller's best friend, helping you host your very own road trip through France in comfort, convenience, and efficiency. There isn't an easier, faster or more affordable way to discover the beauty and intrigue that envelopes the country.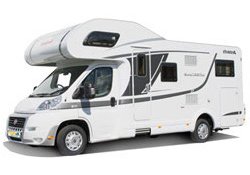 France is a beautiful country and not surprisingly, one of the most visited places in the world. Paris is the big city, home of the Eiffel Tower, Notre Dame Cathedral, a vibrant nightlife and so much more. Walk through Montmatre, visit the trendy Marais or people watch at one of the many terraces. You definitely want to spend some time in Paris, but there is so much more to France than Paris and its sites.
Bordeaux is home to elegant wineries and vineyards that you will love to discover. With those vineyards and wineries come lots of lavish green spaces and amazing food that are sure to entice you. Nice is definitely a city that shouldn't be left off of your agenda. You will find delightful beaches for all, fine art and a plethora of outstanding museums, along with beautiful landscapes that are so easy to explore with an RV rental. With your campervan you have the chance to explore the scenic routes spread throughout the country. There are many of them, offering an immersive glimpse at the beauty of the French countryside and an opportunity to experience the local culture firsthand while traveling in comfort and style!
Rent a Campervan in France with Auto Europe
What are you waiting for? A motorhome rental in France is the only way you should consider traveling about the country. Book online today using our simple booking engine, or call one of Auto Europe's friendly agents toll-free at 0800 983 468. With over 60 years of experience in the industry, we are available to assist you with any questions you may have. Make your France RV hire a reality with Auto Europe today!