Australian Motorhome and RV Hires
Consider a motorhome hire when travelling to Australia to enrich yourself in the greatness of the land down under. The flexibility of driving your RV from the coast of Queensland, to the Sydney Opera House, and the legendary Outback will allow you to experience all the renowned attractions Australia has on offer. Along with the great highway system, Australia also boasts some of the finest caravan parks with amenities on par with hotels. Don't be held back waiting at the airport or train station, get out and explore Australia in your motorhome hire from Auto Europe!
With an RV hire in Australia ready and waiting, travellers will have no trouble exploring this idyllic country. Travel coast to coast in a motorhome to experience some of the most picturesque landscapes and beaches you will ever experience. You must have your camera on the ready! No matter the adventure you have in mind, Australia is the perfect country to meet your wants and needs. There is something for everyone, and every interest, for every age.
Explore More with a Motorhome Hire in Australia
Sydney is one of the most popular tourist destinations in Australia and it is definitely a city not to miss. The Harbour Bridge and Opera House are both housed in this elegant city, and these two attractions are only the start of the fun. Once you've explored Sydney be sure to check out Bondi Beach. The most popular of the hundreds of beaches down under, it is sure to meet your desires for sun, sand and sea. Park your camper and people watch or take a dip!
Melbourne is a cool, modern and chic city, often considered more European than Sydney. Not only is the city fun, young and modern with an assortment of shopping, night life and art galleries Melbourne is also full of history and vibrancy. If you didn't catch enough rays in Sydney, Queensland has some of Australia's most beautiful coastal regions. Discover the Gold Coast with its beaches and theme parks, Cairns the gateway to the Great Barrier Reef or Port Douglas with the majestic Daintree Rainforest. Camp grounds dot the coast - you'll never be far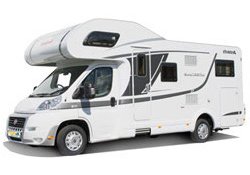 from a good nights sleep.
Although the Eastern coast is the most populated area, further afield should not be missed. Adelaide is home to famous wineries and festivals, Ayres Rock is home to the famous rock formation Uluru and Perth offers sunny weather, stunning beaches, and a relaxed outdoor lifestyle. Anywhere in Australia is possible with your motorhome - your hardest choice is picking what to see and where to go!
Hire a Campervan in Australia
So what are you waiting for? Australia truly is a perfect country to explore in a motorhome. You can book a motorhome or campervan hire in Australia online, or call our toll-free number at 0800 983 468 to speak with one of our agents. Let Auto Europe help you explore Australia in a motorhome. Down under is waiting for you!